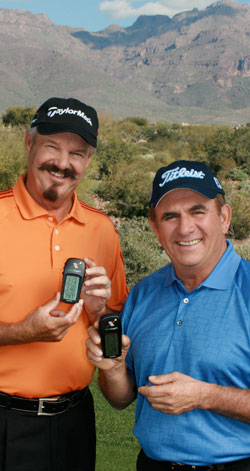 GolfLogix is the most precise, durable, and user-friendly golf GPS on the market today. Wherever you are on the course, GolfLogix displays the key distances to hazards and the green in big bold numbers all on a sleek black palm-sized device. The screen advances automatically to all of the targets on the golf course so there are no buttons to push or lasers to point during your round. GolfLogix even recognizes what course you are playing and can display the distance of your last shot! All you need to do is check your distance, choose your club, and enjoy your game. It couldn't be easier.
GolfLogix GPS-8 can hold up to 6 hazards per hole, identifying:
Front, Center & Back of Green
Hazards
Bunkers
Water
Lay-ups
Carries

Our simple-to-use software lets you download up to 20 golf course maps on your unit at one time! The software walks you through a few easy steps to download golf course maps from our database of more than 15,000 golf courses…and more are being added every day!
See if your course is available and if not, simply submit a request. We always make it our top priority to map the requested courses from our loyal customers and most course requests can be completed by our professional mapping team in just a few days.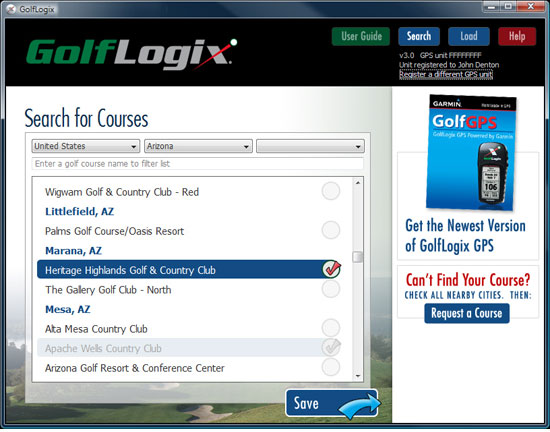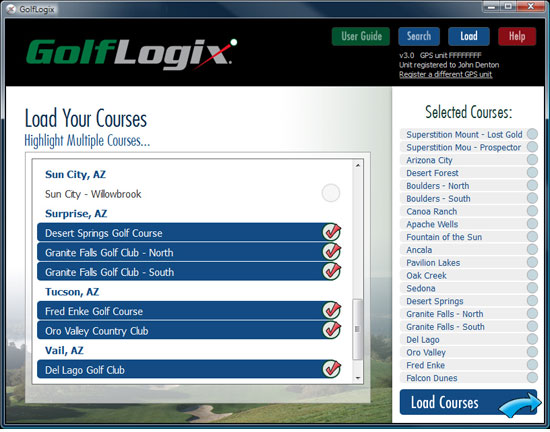 Since 1999, GolfLogix is the undisputed leader in golf GPS. Our GPS gives you the precise accuracy and rugged durability that you need for a high-quality outdoor electronic device. Our hardware is manufactured by Garmin, a world leader in GPS technology. In addition, GolfLogix GPS-8 includes Garmin's high sensitivity GPS receiver which ensures faster satellite acquisition time and superior accuracy. Garmin is recognized worldwide for its exceptional products in the Aviation, Automotive, Marine and Outdoor-Personal GPS navigation markets.
We are so confident in our product's functionality and reliability that we offer a one-year warranty. Our leading competitor doesn't even come close to our durability or our warranty.

In 2007 the USGA and R&A both sanctioned the use of satellite-based yardage measuring devices during competition. Now thousands of golfers worldwide are buying GolfLogix GPS devices. In fact, GPS is the fastest growing category in golf today! The days of searching for sprinkler heads and yardage markers are over. What are you waiting for? BUY NOW

Easy, Fast, and Fun....Guaranteed!
Holds up to 20 golf course maps
Distance of last shot feature
Free golf course download with purchase
Purchase includes a one-year warranty
User-friendly software and top of the line hardware
Includes Garmin's high sensitivity GPS receiver which ensures faster satellite acquisition time and superior accuracy
Instant and precise distances to the front, center and back of the greens plus all hazards
Auto-advances to each target on the course for completely hands-free use so there is no need for complex button layouts to learn or lasers to point during your round
Auto-recognition of the course being played when the unit is powered on
A large LCD screen (1.25" wide x 2.25" tall)
Large number displays that are easy to read for all ages and eye-visions
Personalized name on main screens for security and anti-theft
Excellent visibility in direct sunlight with adjustable screen contrasts
Backlight screen setting for dark playing conditions
100% waterproof case (submersible in water per IPX7 standard tests)
Shock-proof and impact resistant for rugged outdoor use
Displays in Yards or Meters
Includes multi-use belt or bag clip
(2) AA batteries included
Up to 17-hour battery life
Compatible with all alkaline and rechargeable AA batteries
64 x 128 pixel display
12-channel GPS receiver with precise accuracy
GolfLogix Course Manager software with USB drivers
Comprehensive User Guide and Online Help Menus
Weighs 5.3 oz with batteries
Size: 4.4"H x 2.0"W x 1.2"D
Unlimited golf course downloads (15,000+) are available with $29.95 annual membership
30 day money back guarantee

Windows
Operating Systems
Windows 2000
Windows XP
Windows Vista
Minimum Hardware
500 MHz Pentium class processor or better
256 MB RAM or greater
USB Connection
Internet Connection
Mac
Operating Systems
Mac OS X 10.4 (Tiger)
Mac OS X 10.5 (Leopard)
Minimum Hardware
Macintosh computer with an Intel x86 or PowerPC G3, G4, or G5 processor
256 MB RAM or greater
USB Connection
Internet Connection